3 rooms flat, 109 m2, Antakalnis, L. Sapiegos g.
Stylish three-room apartment in a prestigious house near the center with a living room, high ceilings, autonomous gas heating and outdoor terrace

Key features:
- Stylish, modern-style interior
- High class furniture and installation materials
- The first floor of the apartment has a spacious living room with high ceilings, bedroom with glass sliding doors, a kitchen area and a bath
- Above the living room there is a loft that can be used as a work area or a second bedroom area
- On the lower floor there is a sleeping area, closet, pantry, bathroom with shower
- Total three bedrooms (room with glass sliding doors below the loft, bedroom area on the ground floor, bedroom/working area in the loft above the living room)
- Inexpensive gas heating
- Free parking in front of the buliding
- Outdoor terrace. The street in front of the house is closed, cars do not ride (parking only), so it is a great place to live with children, quiet and calm. There is a children's playground outside the house.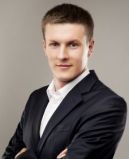 Premium property agent
ignas.vaitkunskas@rebaltic.lt