3 rooms flat, 76 m2, Senamiestis, Labdarių g.
Exclusive, luxurious and stylishly furnished spacious 2 bed-room apartment in the heart of the Old Town, in a historic building.
Key features:
-Functional and comfortable layout - spacious living room with kitchen area, bedroom, second room that can be converted into a children's / study room, spacious bathroom
-Classic, exclusive and luxurious interior that has been created while maintaining an authentic spirit. The walls of all rooms with authentic, restored motifs and preserved wall masonry, the tiled stove standing on the living room creates a special coziness
-Apartment for sale fully equipped, with quality appliances and stylish furniture
-The apartment is equipped with the help of a designer, all furniture is made of solid wood according to an individual order
-The apartment is equipped with exclusive and luxurious lighting, high ceilings further increase the space of the apartment
-The corridor has spacious mirrored wardrobes for convenient storage
-The apartment has recently undergone major repairs, new electrical installation and wiring, piping, quality plumbing, underfloor heating in the bathroom, local independent recuperation ventilation system
-Heating in the apartment is individually regulated (each radiator has a regulator and telemetry sensors)
-The apartment is equipped with a fire system, alarm system
-Windows - wooden, 3 panes with sound insulation layer (oriented to the east and west), so it will be always warm and cozy, windowsills wooden, floors - quality oak parquet boards, walls - painted, with authentic, restored motifs and preserved wall masonry, ceilings - painted, interior doors - made of solid wood, entrance doors - wooden
-Yard and staircase video surveillance system installed
-Renovated and planted yard welfare
-The yard is equipped with an automatic gate lifting system, there are parking spaces for your car (s) near the house
-Lockable staircase, quiet and friendly neighbors

It's a particularly convenient and prestigious place to live, as the apartment is located in one of the most attractive places in the Old Town - right next to the Cathedral Square and Gediminas Avenue. To our knowledge, this is the only fully reconstructed brick building in the entire Old Town of Vilnius. The building is fully heated, including the basement, all water inlets and tracks and sewerage have been replaced. A new electrical inlet has been brought to the building and the electrical installation has been completely changed. An independent own heating unit with minimal heat loss is installed for heating and hot water. It is a great choice for those who is looking for an exclusive and cozy home with historical heritage, who want to live comfortably - many restaurants and cafes of the Old Town are within easy reach, as well as excellent connections to other areas.
Object data
Heating
central, individual accounting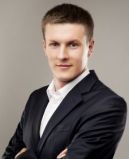 Premium property agent
ignas.vaitkunskas@rebaltic.lt